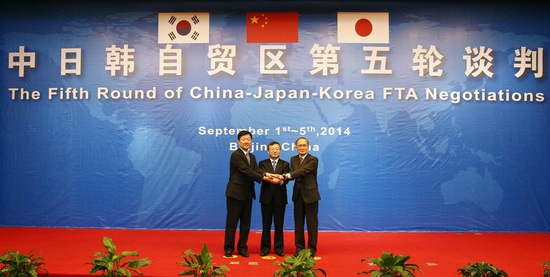 The Fifth Round of China-Japan-Korea Free Trade Area Negotiations was held in Beijing on September 1. Chinese Assistant Minister of Commerce Wang Shouwen, Japanese Deputy Foreign Minister Yasumasa Nagamine, and South Korean Assistant Commerce Minister Woo Tae-hee attended the meeting with their delegations.
During the five-day negotiations, the three parties will discuss on such topics as the mode of lowering taxes for trade in goods and the way of opening service trade and investment. They will exchange views on the range and areas of the agreement.
The China-Japan-Korea FTA Negotiations were officially launched in November 2012 and four rounds have been held ever since. At present, enterprises from the three countries are eagerly hoping for a completion of the negotiations as soon as possible so that they could benefit from it early.